Electricity
Learning physics and chemistry easily and freely - Science for elementary school, middle school and high school
Free online electricity lessons for elementary school, middle school and high school.
How to build simple circuits and draw diagrams
How to draw diagrams of electrical circuit ?
I
1) Standard electric symbols
Each electrical component can be represented by a Standardized symbol.
Main standard electric symbols:


standard symbol for a
bulb


standard symbol for a
connection wire


standard symbol for a
n open switch

standard symbol for a closed switch

standard symbol for a
battery


standard symbol for a
n electrical motor

standard symbol for a
resistor


standard symbol for a
diode


standard symbol for a
LED


2) Circuit diagrams
Circuit diagrams are drawn using standard symbols and following specific rules:
- 1) The diagram is drawn with a ruler and a pencil. Always begin by tracing its general shape that is a rectangle.
- 2) The standard symbols of the different electric components are located, preferably, in the middle of each side.
- 3) The order in which are placed the different symbols corresponds to the order of connection of components in the circuit.
Example of diagramming
The goal is to draw the diagram of the following circuit: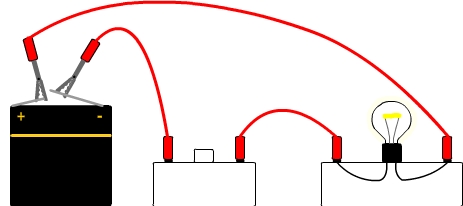 First step:
We trace a rectangle with a ruler and apencil.

Second step:
Each electrical component (battery, bulb and closed switch) is represented by its standard symbol in the middle of a side.
We begins by choosing three locations that are delete:

Then are placed the three symbols: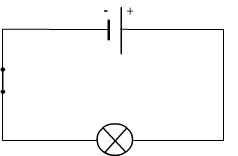 Comment: It is not necessary to add connection wires that are represented by the sides of the rectangle.
Step Three:
We check the order of connection. In the initial circuit, the positive terminal of the battery is connected to the bulb which is itself connected to the switch and the latter is connected to the negative terminal of the battery.
This order is respected in the diagram.
Comment: as long as the connection order is respected symbol can be placed on any side of the rectangle
---
---
©2021 Physics and chemistry