The essential about water in human body



Percentage of water in human body
Like all living tissues, our body contains water in various amounts:
- 75% for a baby
- 70% for one child
- 60% for an adult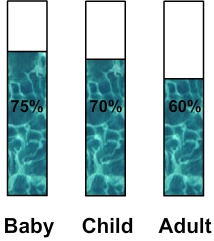 ( diagram: percentage of water in human body )



How much water in human body ?


Previous percentages can be used to calculate the amount of water in a human body.
For instance:
- A baby whose mass is 3 kg:
3 x 75 : 100 = 2,25 kg
This baby has 2,25 kg of water in its body ( it corresponds to 2,25 L )

- A child whose mass is 40 kg:
40 x 70 : 100 = 28 kg
This child has 28 kg of water in its body ( it corresponds to 28 L )

- An adult whose mass is 70 kg:
70 x 60 : 100 = 42 kg
This adult has 42 kg of water in its body ( it corresponds to 42 L )

How human body loses water ?
The water in our body is eliminated in three ways:
- By the urine (approximately 1 L per day)
- By sweating (about 0.5 L per day)
- By breathing which rejects water vapor (about 0.5 L per day)

Water balance in the body
To maintain a stable percentage of water in the body and avoid dehydration, lost water must be replaced:
Therefore in total 2L of water must be consumed per day: 1.5 from drinks and the balance being provided by food.


Learn more about water in human body


The water in you: more detail about percentage of water in various parts of human body and factors that may affect it.

The healt benefit if water: how water may affect healt in various ways

Drinking too much can kill

: article from scientific american that explain water should not be consummed with excess.



Water losses of the human body and how to compensate for them
: Various factors that may cause losses of water and how to balance them